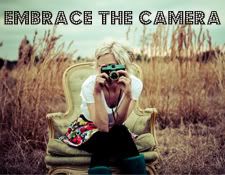 As of 2:22AM today... I've been at this whole 'Mommy' thing for 4 weeks. Yes, Tayler is 4 weeks old TODAY. My oh my how time flies! Like seriously. I know I say that every week, but I cannot even begin to stress how true it is. I cannot believe that in 2ish more days it will be her one month birthday.. (Well, actually, she doesn't get a 1-month birthday. Darn the whole 30 day hath September, April, June, and November thing! My daughter will only have monthly birthdays for 7 months of the year. Boo!) Here's a picture of Tayler-Bug on her 4 week birthday:
And here's a Mommy recap of life with a 4 week old:
Struggles-- She is still fussy at night time. I refuse to claim Colic. I keep pleading the blood of Jesus over her. I know that if God can heal her of cysts when I was 18-27 weeks pregnant with her, He can take care of this fussiness. It starts at about 6:30PM and lasts until about 9:30/10:00PM. She just screams and cries... constantly. The only thing that seems to soothe her (sometimes...) are car rides, holding her and walking around the house, or eating. (Which obviously we can't feed her every time she cries...) It's been trying, I'm not going to lie. It honestly just breaks my heart because I feel helpless :( It tears me up inside to see her crying and not be able to fix it for her. I try everything... the swing, a car ride, noise, play mat, her binkie... and these rarely help. Sometimes we get lucky, but most of the time, we just have to suffer through those 3-4 hours at night time. Please just pray for us and pray for her. We refuse to claim Colic.
Triumphs-- Besides those 3-4 hours at night, things have been wonderful with her! :) We had a wonderful milestone last night (and yesterday..) First of all, she napped in her crib yesterday (and put herself to sleep might I add!) for 2.5 hours... then, we put her down at 10:30PM to go to sleep in there and she slept until 3:30AM by herself in her big girl crib. I was such a proud momma (and a thankful momma! She let me sleep for 5 hours CONSECUTIVELY :))
Doesn't she look tiny in there? :) I couldn't be more prod of her!
Also-- she keeps trying to hold her own bottle:
She's so smart :)
I have started my own Scentsy business as an Independent Scentsy Consultant. I want to bring a little income into our family but still be able to stay home with Tayler, so this is the route I've chosen to take :) I'm hosting my Scentsy launch party on May 14th :) If you're interested in purchasing anything from it (and you can't make it) click this link: https://alyssabay.scentsy.us/Home and go to the right side of the page where it says 'Buy From Party' and purchase something! Please help me make this business successful :) Scentsy is amazing and I want to share it with all of you!
And that sums up Mommy life right now :) I'm loving every minute of it. She is SUCH a miracle and every morning I wake up and see that smile... I know it's a BLESSED DAY! :)