So, for some reason during the two hours that I was tossing and turning last night (so frustrating-- for some reason I do this at night time anymore and it drives me bananas, haha!) But I was thinking about the day Ethan and I started dating and how we took a picture the FIRST day we met at our mall outside of F.Y.E (this is December 26th, 2009)
We look so young there, huh? He was 19, I was 22. Crazy how life changes, haha!
Then, we went back last year and took a picture at the same spot. We wanted it to be a 'tradition' that every year on the 26th, we go back to our 'roots.' :) (this is December 26th, 2010)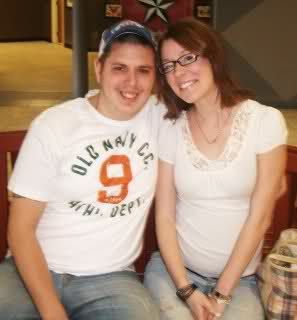 I was 25 weeks pregnant there. And Ethan had the terrible mustache, hahahaha! Gah, glad that's gone LOL!
But I was thinking about how cute it would be to add Tayler to the mixture this year? :) Head on over there December 26th, 2011 and put her right in the middle. I was day dreaming about December 26th, 2020 when we have like 4 kids all around us. I think it would make some adorable pictures.... This is what I thought about at 11:30PM. What were you thinking about? LOL
Also-- how wrong was I on X-Factor? I told y'all. I'm terrible at guessing that kind of stuff. I can't believe Rachel went home. She seriously broke my heart at the end. So, all that's left is Marcus, Chris, Melanie, and Josh. We'll see who comes out on top! Who are your favorites?
I've been saying Josh is going to win all along, but I'm starting to think that Chris Rene might pull this one out. I guess only time will tell! :)