We wanted to have a pretty relaxing day today. That's typically how Sundays roll for us since that's the night E has to go back to work. We woke up, watched some TV, ordered some pizza, and played with Tayler. Typical, right? :) We must have wore her out though because she became a snuggle bunny which rarely happens anymore. Someone tell me how she can be almost 4 months old and NOT want to cuddle with her mommy anymore. I didn't give permission for this to happen little miss Independent! So, I took advantage of it today ;)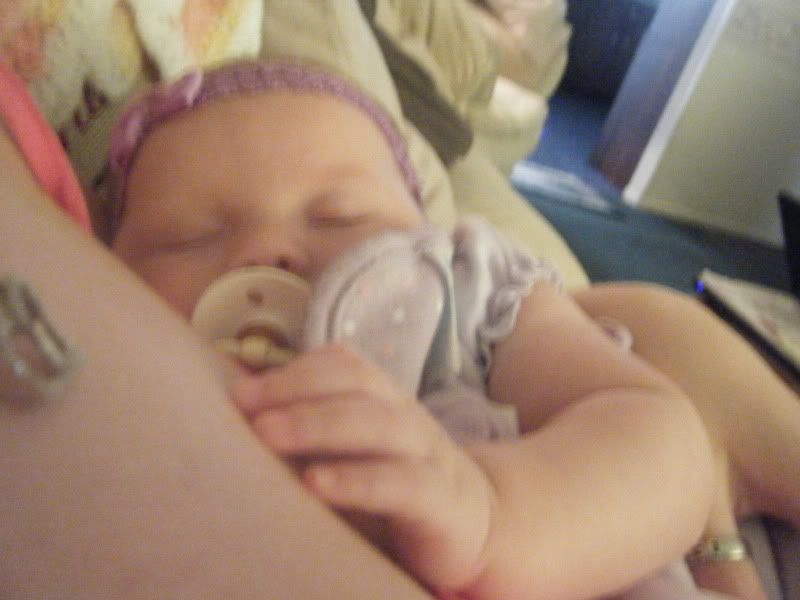 E and I went and looked at a few other houses today... I fell in LOVE with this one...
It has a living room as soon as you walk through the door, then you go into the Master bedroom/Master bathroom (with a jacuzzi tub ;)). After the living room, you walk into a GORGEOUS kitchen with beautiful tile and amazing countertops! And off to the side of that is the utility room. It's huge! Then you walk around the counter and there's another living room (which we would totally use as a game room-- pool table, bar, etc.) As you keep walking you see a bathroom and 3 bedrooms connected to it. LOVE LOVE LOVE IT! We'd have enough room for the kids we want to have PLUS a library ;) YAY! Now, it's just up to the good Lord to help us!
Then I traveled with my mom and dad while they looked at a house. As I previously stated, they are trying to find a place closer to where E and I are going to be living. We know the location, just don't have a house just yet, haha! :) Once we got home, I made dinner-- barbeque chicken, baked potatoes, corn, and pudding treats while Mom kept making Tayler laugh. It was ADORABLE, so I taped it for everyone to see!
Cheers!