Sunday, I assume, wasn't a very productive day because I have no pictures of the morning, haha! We have had such a busy past couple of weeks.. it's no wonder we did next to nothing, LOL! :) But we surely made up for that in the evening, folks!
Mom and I went grocery shopping. Since we moved in with them, it's been a different experience planning the groceries for the week. I'm used to our $40.00 budget.... haha! And it's a little more extensive now with all of us living here! :) But the dinners are out of this world as are the desserts ;) On the menu for this week is going to be: chicken alfredo and garlic bread, taco bowls, breakfast casserole (I have that recipe if you'd like it!), beef and noodles with mashed potatoes, and pizza. We've got to have an easy meal thrown in there somewhere, haha! And I'm going to make some chocolate pudding this week with reeses cups, a no-bake Oreo dessert, and no-bakes. Yes, we have a personal trainer that lives here.. and yes, I bake this way all the time, haha! :) My hubby needs that energy at night while he's working ;)
Tayler is a HUGE fan of grocery shopping.... obviously..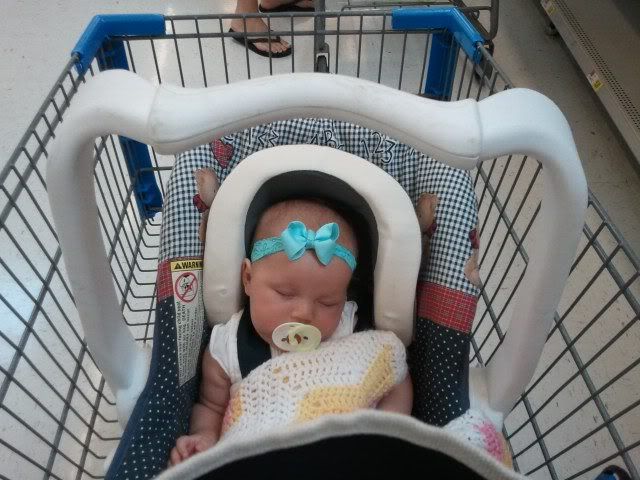 It must be pretty relaxing for her, eh? :)
And everyone always says 'You know you can hook that onto your cart so she's not actually sitting IN the cart right?' and I do know this, but I don't trust it. I've read entirely too much about those flipping over and stuff so no thank you, haha! :) I just put her in the cart and we get the shopping done in another one! It's simple and I feel much safer doing it that way! Nothing against anyone that puts their children on the top of the cart..it's just I don't want her up there :)
Once we got home, we unloaded the groceries, and I painted Tayler's toe nails :)...... they're GLITTERY! This was SUCH a rough process because I was absolutely brilliant and did it while she was awake, bahaha! Silly me thought that would be a simple task. But they do look cute ;)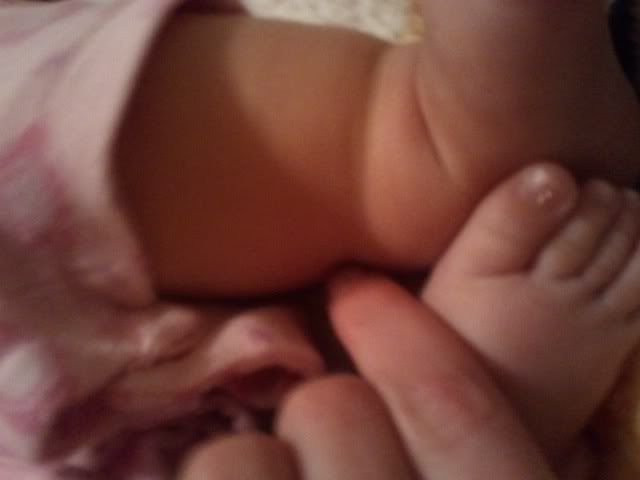 Then Tayler went to sleep in her big girl crib :) and I curled up to watch 'Bridezillas' and 'Amsale Girls' :) It was 'Amsale Girls' Season Finale... I was heartbroken. I LOVE that show! :)
Cheers!