I was already prepared for Monday to be a BUSY day. We had to meet with the mobile house consultants again.. plus meet up with some other individuals concerning land, etc. Whoo! So, E got up, we had some breakfast, and we hit the road! I feel so bad because it seems like we're never home anymore.. which means Tay is constantly eating on the road, bless her heart. I told E we've got to pick at least 1 day a week where we are just relaxing. This poor girl is getting worn out. (Including this momma ;))
But before leaving the house, I had to put an idea I had for Scentsy on to paper.. err.. computer :) I wanted to host a 'Scentsy Consultant' contest for the month of September. Here are the conditions:
I know some of you ladies have expressed an interest in becoming a Scentsy Sales Consultant and I also know that what holds most ladies back from becoming a Consultant is that $99.00 that must be paid in order to receive your starter kit (which comes with some AMAZING things that are a necessity for building your business :))
So, here's the September Contest:
I will go half with 2 different women in order for them to start their Scentsy career which means this-- I will be paying $50 and you will be paying $50.00 (plus shipping and taxes which are about $16.00) . It's as simple as that!
So, a little about this contest.
First, I want to know that you are going to take pride in becoming a Sales Consultant. Our team is the key to growing your business--- sharing ideas, sharing questions, sharing concerns. We build our team, we build our business. It's as simple as that. Which is why it is SO vital that we have a strong team... a team that will work hard, sell, and host as many parties as possible. (And don't worry-- you can have basket parties, online parties, home parties, and open houses...) I typically host a party 2 days a month... the rest... well, Scentsy sells itself!
If you are seriously considering becoming a Consultant and would like to win the $50 to put towards your Scentsy Starter Kit, here's what you need to do:
- Submit a photo of you supporting Scentsy in some shape or form. You can be sniffing the product, lighting a warmer, holding up a sign... be creative! Then we will have voting on those pictures. This shows that you can be creative with your business and that you know how to spread the word to others!
- Along with your photo, submit a paragraph about yourself and why becoming a Scentsy consultant would be beneficial to you and your family, why you think you would do a good job, etc. Remember the key is to BE CREATIVE! :) You want to attract individuals to your photo/paragraph to where they HAVE to vote for you ;)
The two women with the highest number of votes will win $50.00 each to put towards starting their Scentsy business. It's as easy as that!
I will need these photos and paragraphs by August 31, 2011 so you have about a month and a half to work hard and get as many ideas as you can! The voting will begin on September 1, 2011 and the winners will be announced on September 16th, 2011-- after that, we will work together to get you signed up to be a Scentsy consultant so that you can start working towards your goals! We will tell the people voting to vote on CREATIVITY and WORK ETHIC. You have a great deal of time to work towards this as well as a great deal of time to raise the money to put with your $50.00. I would take advantage of this offer because most consultants have had to pay the entire $99.00 plus shipping and taxes. But believe me-- it was worth it! I love my job and I love feeling like I give something to our household income. What I've found is the harder you work-- the more money you earn. Would you like to join me today?? If so, please send me a message, a comment.. anything! I'm so excited to have 2 other people join me on our team!
I even made a cute little picture posting the next 2 contests :)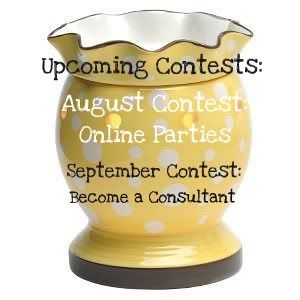 Check out www.facebook.com/alyssbayscentsy if you're interested!
After that, we hit the road! :)
We like to have fun... our kids are in for it LOL :)
We must have reallllllly wore Tay out today. This is her getting ready to go in to Tla Que Paque...
Tuckered out! She slept through the whole meal too LOL (which was yummy by the way :))
When we got home.. there was a surprise waiting for me :)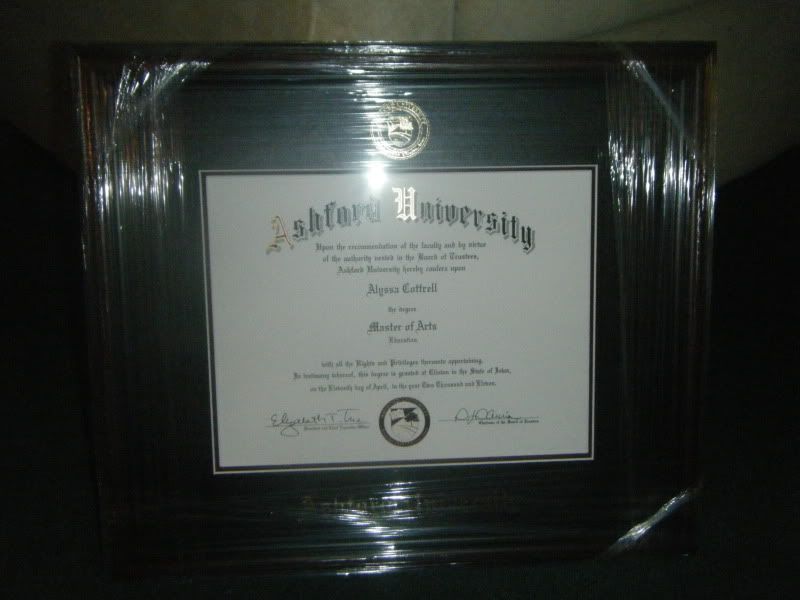 MY DIPLOMA FINALLY CAME!! :)
I completed my Master's Degree in Education on April 11th and finally have proof. I think my husband was beginning to doubt that I actually did any school work, haha! :) Well--- now, he can see it :) I feel SO good seeing this!! It's so amazing. Now... to find a place to put it! :)
And check out my daughter and the cool thing she's doing now--
Yea, yea, yea.. she's still basically supported, but I'm not holding her, haha! I'm so impressed :) She's getting so big!