SATURDAY WAS THE DAY!!!
For those of you just catching up, hehe....
Ethan and I got married at the courthouse on December 28th, 2011--- LIKE THIS...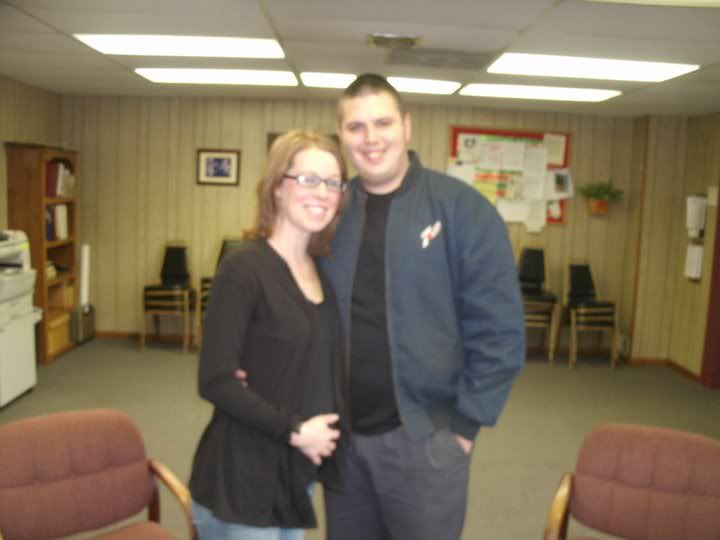 Yep. E was in his work clothes. I was wearing a black shirt and jeans.... and I was 6 months pregnant with Tayler :) We didn't want to worry about having a big, fancy wedding because I wanted to be able to rock it out at our wedding reception, haha! So, we got married by the mayor of our little village and planned on having a wedding reception with all of our friends and family after Tayler was born.
Well, Tayler is here and growing like a weed, so we planned our wedding reception for July 30th, 2011...
The theme was 'Midnight Masquerade.' I wanted a classy look-- black, white, gold, and some silver accents. And it was beautifully decorated. I didn't take any pictures there (shocker, I know!) but I was a little pre-occupied, haha! I'll make sure you all see what the room looked like soon though once the photographer gets to me with them!! :) However, I do have ONE picture of me on the way to the reception: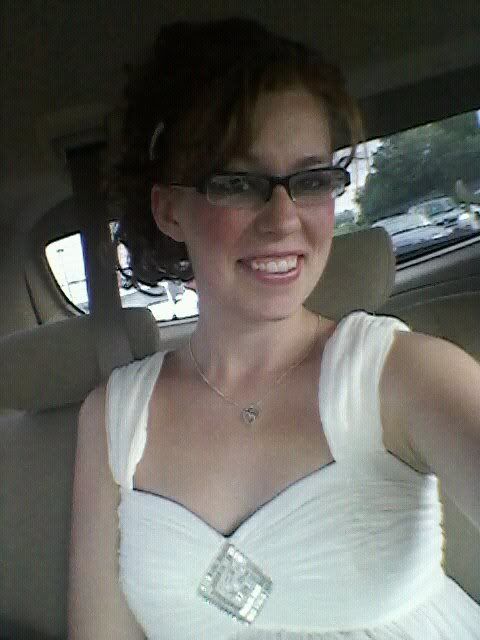 I wanted it to be my fairytale wedding-- even if we did do things completely out of the 'norm' haha! I had a gorgeous wedding dress from JC Penney! :) Tayler was dressed up.. and my groom was even dressed up (That was the first time I've EVER seen him dressed up in my life!) We did a garter toss, a bouquet toss, and even had the first dances! :) It was the most fun I've had in a long time! Thank you soo much mom and dad for hosting this for us! We LOVED it and appreciate it sooo much!
We even had a small honeymoon :) We went to the 'Inn at Dresden' that night! IT WAS AMAZING! If you're looking for a gorgeous, relaxing stay------ it's there! The bed had steps you walked up to get to it.. it was that big! There was a heart shaped jacuzzi tub. They had sweet tea and cookies, hehe and 1,000 DVDs to choose from incase you wanted to watch one :) Plus we had our own private deck. GORGEOUS. Before we walked into the room, E said he had to go ahead of me and fix some things... After he carried me over the threshold.. I saw a note laying on the chair by the fireplace. He told me to go read it.
He had made a SCAVENGER HUNT for me, haha! It said 'To see all the reasons I love you.... follow this...' and it took me to the fridge, the desk, the dresser, and the bed... and throughout the scavenger I found tons of things that reminded him of me :) It was gorgeous! At the end was a bottle of wine and wine glasses... PERFECTION.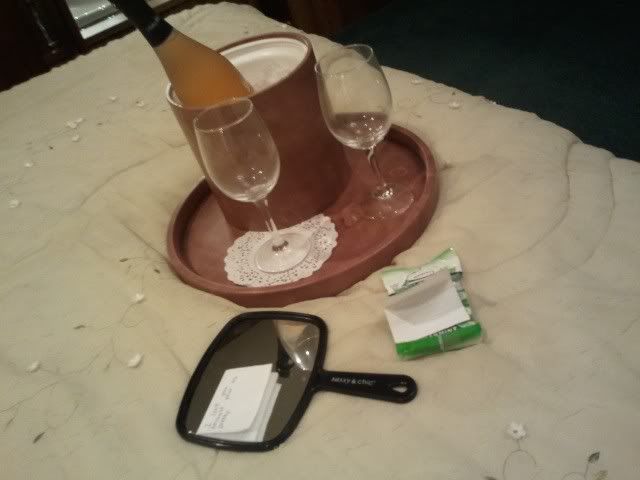 It was an amazing day that I'm soooo grateful for <3