Saturdays in the Fall ALWAYS means college football. Yes, my team has had a bad rep this year. We've went through a lot.... it's been rough, but hey-- they're still my boys. Once a fan, always a fan. It can't change just because players are suspended and a coach resigns (even though I wish this new coach would already 'resign' haha!) But anyways, we're loyal fans regardless... and my daughter is already carrying on that tradition ;) Her Aunt Arena and Uncle Jon bought her an Ohio State cheerleading outfit for Christmas last year, before she was even here, and she wore it for the first time today. I think she looked absolutely adorable!!!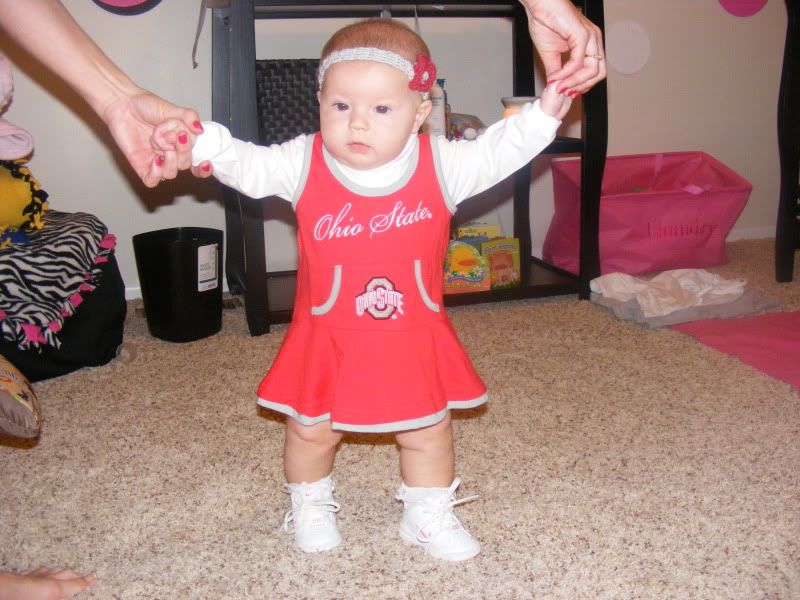 And thank you Rachael for that adorable headband. It matched perfectly!!
After we got her ready, it was time for some grocery shopping. Tayler usually sits in her carseat during our shopping adventures, but today was her first time riding in the cart like the big girl that she is! :) And of course, this mommy documented it, haha!!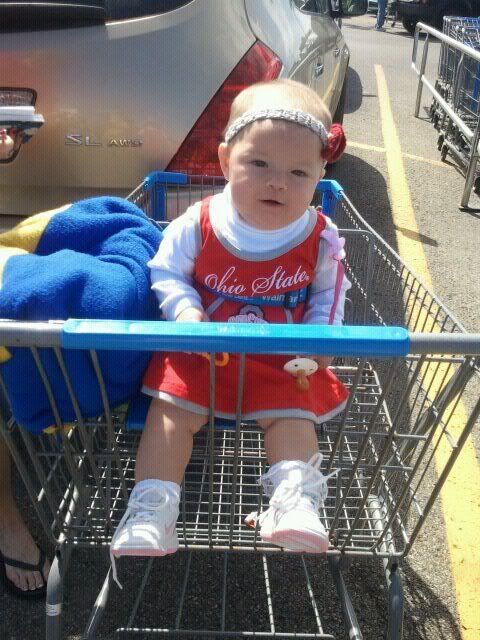 Oh, she's too cute! Everyone at the store was talking about how freaking awesome her outfit was. I was certainly a proud momma! She LOVED sitting up and seeing everything! It was such a fun experience! I am so privileged to be her momma! :)
Once we got home, Gigi made us some 'taco soup' and we got ready to watch the game. Some were calling it the "Ineligi-bowl" others called it the "Scandal-Bowl." Why? Because Ohio State was playing Miami and you all know the grief both of those teams have received this year, haha! Anyways, here was my view during the game:
We lost, but hey-- that happens!
Cheers!